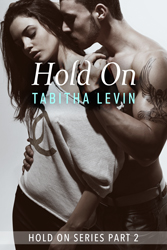 Merry Christmas! Last week (or was it the week before, I think I've lost track of what day is what over this holiday period), I published the second part of Hold On.
I'm sure most of you already know this, given that it's already selling well. But I hadn't yet announced it on my blog so, here is the announcement. Hold On 2 is up on Amazon. Ta da!
I'll be writing part 3 soon. It's outlined in my head (although that doesn't always translate to what I actually end up writing), but it will be out in January come hell or high water. (Um, just what is high water? Is it water that's deep? Or like in a pool with a high wall or something? Or maybe it's a tidal wave because that'd be pretty high. Or maybe it just means high tide or something? I don't know.)
Anyway, after that, sometime before Valentine's Day, I'll publish the bundle and the print version for those that want that.
It'll be exclusive to Amazon for the foreseeable future, so those with Kindle Unlimited (KU) can get it. I don't like being exclusive, but I do like KU (for most of my stuff) so I guess I have to take the good with the bad.
Speaking of KU, I might have my updated thoughts on it coming in a later post. Maybe. Or not. What about you? Do you like KU or do you prefer to get your books on other stores?
Tabs xx