My newest book, THE BEAST is out today!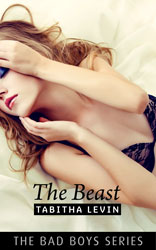 It's the second in the Bad Boys Series (standalone, you don't need to have read the first).
You can grab it for only 0.99 cents or borrow for free with Kindle Unlimited.
Belle Lockhart is on the run from a biker after seducing him and stealing his cash. She hides in what appears to be an abandoned house in the woods.
When the occupant of the house shows himself, he claims he's a beast and that Belle should stay far away from him.
But Belle doesn't always do what people tell her to.
Based on a retelling of the Beauty and the Beast fairytale.
Genre: Contemporary Romance (contains sex scenes)
This is the second story in the Bad Boys series. Books are standalone and can be read in any order. Approx 20,000 words.
BUY IT TODAY AT AMAZON
Amazon US: https://www.amazon.com/dp/B00N64UHAU
Amazon UK: https://www.amazon.co.uk/dp/B00N64UHAU
~~~
It's a contemporary spin on the old beast in the castle story. My goal was to make The Brute from book 1 into someone super sexy, and to create the perfect match for him. Belle was such fun to write, I loved her. I also introduce my next hottie (Colt) who'll be the main love interest in book 3 (coming soon).
Check it out!
Tabs xx