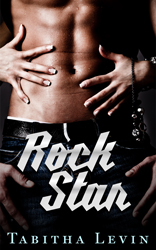 I finished Rock Star. It took a little longer than I expected, although that could have something to do with the cruise my family and I took in the middle of things (love vacations).
But it's done.
I believe that this is my strongest novel so far. It's standalone and tells the story of Lauren Miller (Amy's best friend from Hold On) and Stark Stone, her love interest.
I really like the chemistry between the two characters that starts out as physical and gradually grows to something more. It also deals with living in the public spotlight as well, which can be an issue for anyone these days (not just rock stars!).
Anyway it's up at Amazon (and it's also in KU). I'm running a special launch week price of $0.99 for a week after which I'll bump it up to $2.99 or higher.
I really hope you enjoy it.
Tabs xx