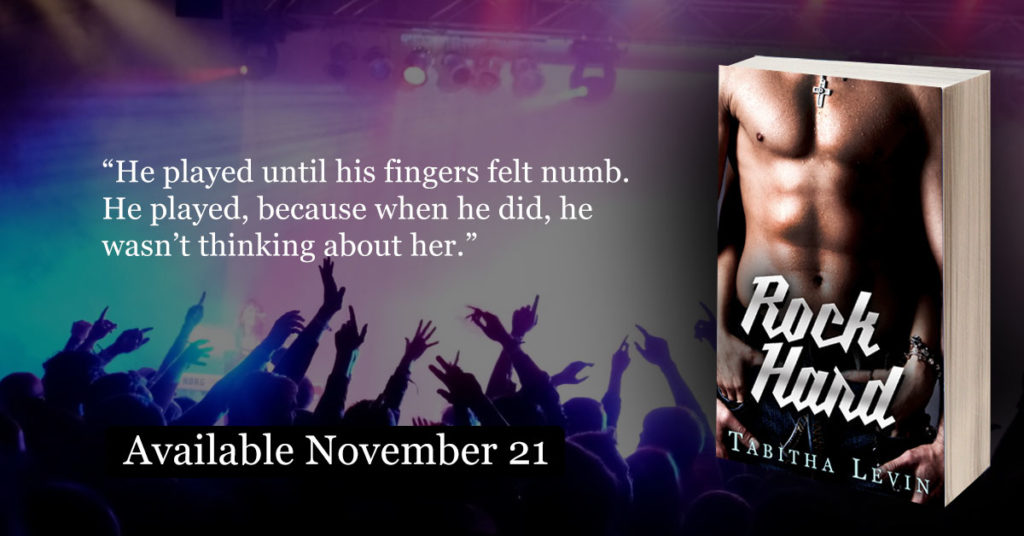 Preorder at Amazon | Apple iBooks | Barnes & Noble | Kobo | Google Play
Rock Hard is finished. It's currently on pre-order at the major online bookstores because I wanted to test out the pre-order feature, and also because it's a good chance for my regular readers to get it at a reduced price. After it goes live I'll be putting it back up to full price.
Rock Hard is the second book in my Rock Star series. You don't need to have read the first book (Rock Star) as they all read as standalone novels.
The first book, Rock Star, was about Stark Stone, the lead singer of The Soft Burns. He fell in love with feisty journalist, Lauren.
This book, Rock Hard, is about Joey Turner. Bad Boy drummer who is used to sleeping with women and not thinking anything about it. He'll meet his match with Emma Faune, who he won't be able to stop thinking about.
Here is Chapter 1:
"Damn it!"

Emma Faune grabbed for the dog lease before it slipped out of her hand completely. The leather strap landed on the ground and was gone before she could reach down.

"Winston, you come back here right now."

The chocolate and white Basset Hound bounded further into the park. For a small dog it was unusually fast and Emma had to pick up the pace if she was going to catch it.

She grumbled under her breath. Sure the dog was cute and all but was it worth so much trouble? She started to reconsider taking on the dog to walk, especially now that she'd got the job to design the cover for that band's new album. She'd listened briefly to their latest song to make sure she got a feel for what type of music they played and had to admit they were decent, even if they weren't the style she usually listened to.

Album covers wasn't the type of art she wanted to create, but when you're new to a city, the last thing you did was knock back lucrative work. She really wanted to create her own paintings and have them displayed in a fancy gallery with pristine white walls and floors so gleaming that you could see your reflection.

That wasn't going to happen anytime soon and the reason why she needed to find alternative sources of income. Hence the dog walking gig.

Winston had stopped beside a large oak tree and was watching a group of children play on a swing set.

Emma slowed so she wouldn't startle him and crept forward. If she could grab the lead before he knew she was there, she was sure to get back control. Otherwise she might be late getting Winston back to his owner, which would make her late for the meeting with the manager of the band, which would make her look like a complete hot mess for her first paid artistic endeavor. Not the image she wanted to portray.

She took a step forward and leaned down slowly. The lead was only inches from her fingertips. As long as the dog didn't notice her she would have him.

"Why don't you just call it?" A gruff voice startled her and the lead slipped away again. Winston took one look at her and took off.

She turned to see what idiot just ruined her chance at getting the dog before it ran off again.

The man standing in front of her was tall and had strong tattooed arms. He was wearing a black t-shirt far too small for his frame and the tight fabric stretched over his skin making every muscle visible. The way he looked at her was unnervingly sexy. A rush of electricity jolted through her body settling right between her thighs. Damn. She never got that reaction from the mere sight of someone before. She needed to control her thoughts better if seeing a complete stranger in the park made her react like that.

"What did you do that for?" She stood up, glaring at him, before looking around for where Winston had run off to this time.

"Your dog isn't very obedient. He needs lessons."

"He's not my dog. And now I have to go and catch him again, thank you very much. Why don't you mind your own business next time?"

"Is he your boyfriend's dog? Or your husband's? Or maybe you're gay and have a girlfriend?"

Seriously? Emma turned back to black t-shirt guy. "Are you really enquiring about my single status? Right here, in the park? After you just lost my dog." She almost laughed at how ludicrously overconfident this jerk was.

"You said it wasn't your dog."

"It's not. I don't own the dog, I just walk it."

"So you're a dog walker?"

She shook her head. She wasn't a dog walker – she was an artist. She was just doing this job so she could afford useful things, like, you know, food and shelter. She was about to explain this to the brute when she realized it was none of his business. The last thing she needed right now was to have a conversation with a complete moron when she was running late, even if he was exceptionally handsome. "Look, I just need to get the dog back, okay?"

"I'll help you."

Black t-shirt guy placed his hand on her arm and immediately a rush of warmth tingled through her. What the hell was wrong with her? She never felt this sense of attraction to someone this quickly before. Clearly she needed to take her roommate's advice and get out more. How long had it been since she last dated? A while, that's for sure, and certainly not since arriving in California two months ago.

"No thank you, there's no need, I can do it myself."

"Obviously." He looked her up and down. "Skirts are the perfect outfit for dog wrangling."

"I'm wearing this skirt because I have a …" She stopped. She didn't need to explain to him why she was dressed this way. It was none of his concern. She folded her arms over her chest.

He grinned and walked ahead in Winston's direction, whistling and patting his hands against his tight jeans. Jeans that were wrapped around that ass far too tight to be comfortable.

Not that she was looking at his ass. Okay, she totally was. She groaned. She needed to get one of those vibrating toys since she was clearly hard up if she was staring at stranger's asses in the park.

Winston had stopped again and was squatting near a dry patch of grass. "No." She picked up the pace. "Not there. Damn dog."

After Winston had finished his business he cheerfully bounded over to black t-shirt guy to greet him.

Emma frowned. She pulled a plastic baggy out of her pocket and picked up the mess, crinkling her nose in the process. At least now the guy wouldn't attempt to find out her availability after this. Collecting dog poop wasn't on the high list of desirable qualities. She disposed of the bag in a nearby bin and wiped her hands with her antiseptic wipes careful not to get any marks on her clothes.

Winston had proceeded to jump over black t-shirt guy and dirty his jeans with paw prints.

"Sorry about your pants," she said.

"Nah, it's cool. I've got shorts in the truck."

"Okay, well if you can give me the lead back now, I'll be on my way."

"What, I don't get a reward for helping you get the dog back?"

"A reward? You think I have money to give you?" She laughed and shook her head. "Clearly, since I walk dogs for cash, I don't have any to give away."

"How about a kiss then?"

"You can't be serious."

Black t-shirt winked at her. "Next time then." He turned and casually walked away, not once looking back over his shoulder to see if she was still looking at him. Which she was. She shook herself out of her thoughts and pulled on the dog lead.

Next time? Who the hell did he think he was? There most certainly wasn't going to be a next time since she'd probably never see him again. Definitely, if she avoided the park from now on. There were other parks she could walk Winston at. None as convenient to her house though.

"Come on dog, let's get you home." She tugged on the lead and Winston trotted beside her obediently. "Oh, so now you listen to what I say?"