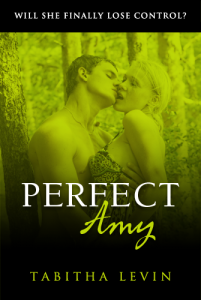 Some people tell me I have control issues.  That's probably true (actually that's very true) but it doesn't mean I can't lose control in some areas of my life *wink wink*.
But it got me thinking about women who do have control issues and have trouble letting go.
So I wrote Perfect Amy.
Amy is one of those women that everyone thinks has it all – looks, perfect boyfriend, great life.  But due to a bad past relationship she has built walls around herself and as a result doesn't let other people see her when she is at her most vulnerable.
Even those close to her.
In this short story I wanted to help her to find that release.
I really enjoyed writing it and found the second sex scene quite hot.  I hope you enjoy reading it.
Tabs xx