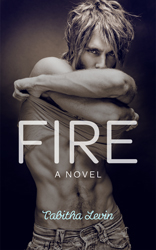 Yes I finally got off my ass and wrote another book. I started it back in December. but then Christmas and life kind of got in the way and it got shelved. I went through a bit of a crisis of confidence and thought I wanted to give up writing all together.
But then May came and suddenly I had a fire burning under me (hehe). I wanted to write again. So I dusted Fire off and finished it. I'm super proud of it and think its my best novel to date (don't writers always say that?)
Anyway, it's the story of Kyle, who is Rock Star Stark's little brother, and Kyle's ex – Melissa. She's just turned up at his fire station and wants to be the new rookie. Do you think he's going to want to have anything to do with her after she broke his heart?
Anyway, it's my first ex's-getting-back-together romance and it's made me really want to do more. I love the chemistry between them and that they really do care for each other but have been hurt and are scared to open back up again.
I hope you like it too. If you do, I'd love a review on Amazon (it helps author's when you take the time to do this). But if you aren't one to give reviews that's fine too. Just sit back and enjoy my latest novel.
Tabs xx