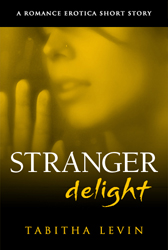 I wrote Stranger Delight many years ago, before I started writing fiction full time.  For that reason it's probably not my best work which is why it's free, but nevertheless I think it shows potential.
I saw a competition in a men's magazine that wanted erotic short stories for a competition and I thought, I'm a writer, why not enter?  So the first part of Stranger Delight was the entry that I submitted to them.
I don't actually know what happened to it after then, although I did hear that it got published (I never saw the edition it was in however).  But my current boyfriend is convinced he read it in the mag (weird huh!)
It wasn't until a few years later that I thought I would continue the story and perhaps make it more an adult romance with some back story.  And the short story that I've just published is that story.
When I stumbled across this old story of mine I figured it was about time I allowed it to be read by others and so have released it in eBook format as a short story.
Since then I've gone on to write more stories in the series, with Stranger Delight being the first story from the Desperately Delicious series.
Tabs xx
Get this story and more in the Desperately Delicious Box Set (Seven Erotic Romance Stories). Available now at Amazon