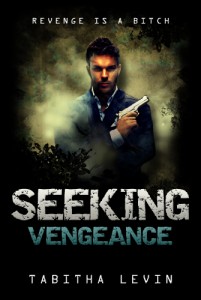 About the Story
Seeking Vengeance ties together two stories about seeking revenge in troubled times.
In this story we meet two new characters.  One is Talli who Ethan from Hunger For Truth is now dating, and the second is Tom – a cop who seems interested in Emma (Ethan's sister).
But things are not always what they seem when Ethan finds a mysterious object in the closet and learns that Talli is doing more than just protest against a corrupt insurance company.
It's an explosive (he he) fun little story with a dramatic ending.
My Thoughts
I struggled with this story a lot.  When I wrote the first draft I had three main storylines all coming together but in the end it was too much and wasn't working so I cut one of them out (sorry Josie, you can have your own story later).
I think just having the two plots works better for Seeking Vengeance giving it a nice tight finish and tying up loose ends.
This is also my longest story so far at over 6,000 words so if I can continue to edge up the storylines and word count one of these days I might get to a full novel!
Tabs xx