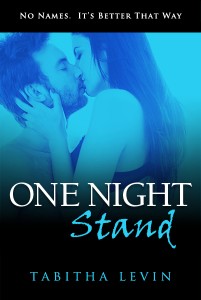 I really wanted to bring an extra element to my erotic romance collection and so couldn't wait to write a one night stand story for one of the characters.
One Night Stand is the 5th story in the Desperately Delicious series.
It's the story of Melissa who, if you remember from Perfect Amy, was David's ex girlfriend who we briefly met while they were holidaying in Fiji.
Even though she was only in that story briefly I really wanted to explore her character more but I wasn't sure how to bring her in.
One Night Stand Stories Are Hot Right Now
When I read on a website that one of the top women's sexual fantasies was to have an anonymous one night stand I thought that this would be perfect for Melissa.  As we can see from the first sex scene, she isn't coping very well with being dumped by David.  Oh dear – but at least it leads to a really hot sex scene.
But I couldn't let her just continue to have anonymous sex the whole book, so I introduced my favorite male character so far – Ross.  I am SOOO in love with Ross.  I think he is just lovely – I hope you think so too.
If you are interested in reading a one night stand story, then I would love for you to check it out.
Only two more stories to go in this series before I can put the collection up.
All the best,
Tabitha.
EXCERPT FROM ONE NIGHT STAND
Chapter 1
Melissa James held the photo frame in her hands, staring at her happy face in the picture. She remembered the way David had draped one arm across her back, gently caressing her shoulder, getting her to smile as he aimed the camera phone in their direction with his other hand. She was laughing. Her eyes sparkled as she leaned into him. He was always doing silly things like that.
If you looked closely you could see a tiny bit of relish at the side of her mouth. David had licked it off right after the photo was taken, his warm tongue entering her mouth, his hand sliding up her top.
She almost didn't remember what it felt like to be that in love, but seeing him recently, had brought all those old feelings crashing back.
She shook her head to shake the feelings away. There was only one way to forget. She opened the fridge door and grabbed the bottle of Jack Daniels, taking a long swig, feeling it burn her throat as it slid down. Another swig. Soon she'd forget all about him, and things would be okay again.
~
The bar was smoky and dark, there was a comfortable musty smell of alcohol that stuck to the carpet. The music was low, like it always was on Friday nights. The after-work crowd preferred it that way, so you could hear yourself talk.
She nodded to Ross, the bartender, as she walked in. Closing her eyes and taking a deep breathe she scanned the crowd. There were the usual men that frequented the place, but regulars were not on her agenda – she needed someone new, someone fresh, someone who likely she would never see again.
Her eyes settled on a booth in the far corner. He was tall and handsome for his age, which she guessed, was late thirties. A well-fitted suit covered what looked like a body in decent shape, uncommon for this area of town. Perfect. She undid a button on her top and headed in his direction.
"May I join you," she asked, smiling at him. He nodded and indicated that the seat next to him was free. She slid in, making sure she was close enough that he could touch – if he wanted.
"You alone?" he asked, and Melissa thought about this for a second.
"Not anymore," she said.
~~~
Get the rest of this story and more in the Desperately Delicious Box Set (Seven Erotic Romance Stories). Available now at Amazon