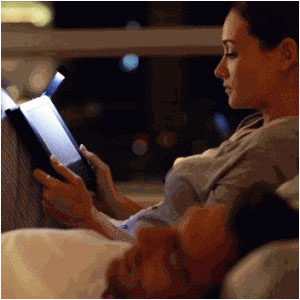 Right now, in the Amazon Bestsellers list for books, 50 Shades of Grey (and it's follow-ups: 50 Shades Darker and 50 Shades Freed) are dominating the top of the charts.
It's appeared on top television shows, including Ellen, and if you mention its name most women will know what you are referring to, whether they've read the books or not.
Erotic romance (or mommy porn as it's now affectionately referred to) seems to have become mainstream.
So as a writer of erotic romance short stories, what does that mean?
Now before I begin this post I must say that I am in no way comparing my e.romance short stories to EL James's trilogy.  They are completely different in length, style of writing, and fan base (obviously).
Plus I actually think my stories are rather vanilla, whereas her books are more on the raunchy side.  (I also haven't read written any BDSM scenes yet, but I'm thinking of doing it for the last book in the e.romance series).
But anyway, back to my point.  Is it now cool to read erotic romance novels?
Seems it is!
And it isn't just bored housewives that are reading it either, young women, men, and even celebrities have jumped on the bandwagon and are whipping out their Kindles for a little juicy bedtime reading.
Therefore that should mean that the entire genre is exploding and people are now hungry (no pun intended) for more to read to satisfy their desires (again I meant reading desires, not the other kind – sheesh)
But I'm not seeing that at all.  While e.romance stories have always been popular, I don't see any other similar titles jumping in leaps and bounds into the Amazon Top 100.
So if you think you'll write some sexy scenes, upload to Kindle, and make a fortune – think again!
Like everything – you still will need a good story first and foremost.
Readers of the romance genre particularly are choosy and expect good writing, plot and characterisation as well as a good sex scene.  And if the sex scene isn't hot – they'll let you know about it with poor reviews.
I don't classify myself as an erotic romance writer (even though I have a few steamy shorts that I've written).  Me, I'm just a writer.  Plain ol' vanilla – don't put me in a box – writer.
Perhaps that's why I'm not as wildly successful as EL James, or perhaps I'm just not as good as I think I am (no!), but just because you write in this genre, which now HAS become mainstream, doesn't mean you'll be as popular as the big names.
Paranormal romance writers found this out the hard way too.  It seems putting a vampire in your story isn't the way to success unless your name is Stephanie Meyer.
And yes, there are plenty of romantic paranormal erotic stories out there as well.  Who says you can't mix your genres 😉
Me – I'll keep plugging away at my stories and writing what I like to read.  Let's just hope that short stories become mainstream soon too. 🙂