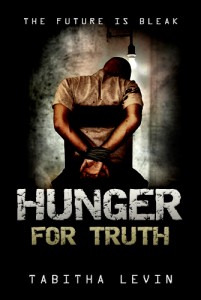 Hunger For Truth is my latest short story and the first in the Urban Darkness series.  It's part conspiracy theory, part suspense drama, set in the future where food is scarce and times are rough.
I wanted to expand and see if I could write in other genres so I've been thinking about some ideas for different stories I could play with.
How it came about: Watching the news I've become increasingly concerned about the government not paying any attention to the amount of farming land that is being sold to international buyers.  What does that mean for us if we run out of land ourselves? Does that mean our country could be thrust into starvation if there isn't enough food to go around?
That set the basis for the story and the possible future we may have.
In the story one of the main character's is taken by a group and held hostage.  Although we never really find out why.
And of course there is a secret government file, a bad-ass conspirator, and zombies (no not real zombies – come on).
Fun!
You can grab it for free at most retailers, download the PDF from my free ebooks page, or read it online below.
Tabs xx
Hunger for Truth by Tabitha Levin
[coming soon]