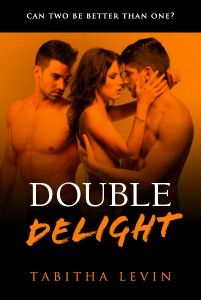 I wanted to give Samantha a happy-ever-after ending before the series finished up, but before that, I wanted to let her experience her ultimate fantasy.  Making love to two men at the same time, and it get's even better, because they are twins.  Yes.  I said twins.  ;)
Double Delight is the sixth story in the Desperately Delicious series, and is one of my favorite stories for Samantha, because we really see her grow up and perhaps fall in love again.
But before that happens, she gets to have some fun in a threesome.
Is your fantasy to have two men ravish you at the same time?
Then perhaps you might enjoy this story.
I had to be careful that I didn't get too 'porn-ish' so the scene is sweet and endearing, but still super hot of course (although personally I find the second sex scene in the steam room hotter, but that's probably because its got steam, sweat, and … well I'm sure you know what).
It's now available at Amazon, with other retailers coming soon.
(And it also contains the next (and final) story in the series – All Tied Up as a bonus story).
Enjoy!
Tabitha xx
~~~
$0.99 (includes All Tied Up as a bonus story)
Buy from:
Amazon | Barnes & Noble | iBookstore | Kobo | PDF
Read an excerpt
Here is an except of Double Delight by Tabitha Levin.  I hope you like it.
"You're getting married next week," said Samantha, twirling the tiny paper umbrella from her drink around in her fingers.  "You're going to be a 'happily ever after' girl now."

The girls squealed in unison, and Claire looked at her engagement ring again, watching it sparkle under the bar lights.

"Showing off your ring again Claire?" asked Sophie from the next table.  "You'd think you were happy to be sleeping with the same person for the rest of your life or something."

The group laughed, but Claire wrinkled her brow.  "Why wouldn't I be happy to spend the rest of my life with Luke – he's perfect."

"They're just teasing you," said Samantha.  "That's what's supposed to happen at your bachelorette party."  Claire smiled, flicking some of her drink at her friends with the straw, making them laugh even harder.

"Do you think it really will be 'happy ever after' with Luke?"

"Of course."  Samantha paused for a second.  "I thought I'd found my one with Paul.  Maybe I'm not meant to be with just one person like you are."

"Perhaps you could end up with two," said Sophie.  "That way if you get bored with one, you've got a backup."  Sophie moved both of her hands crudely, simulating that she was pleasuring two men at once.

Even though she knew Sophie was joking, the idea of sleeping with two men made Samantha's pulse race.  Two men – her ultimate fantasy.  She trembled just thinking about it.

"So when are the strippers getting here?" asked Sophie, and on hearing the word 'Strippers' the group of girls sitting with her, started chanting and banging their fists on the table.  "Strippers!  Strippers!  Strippers!"

"Keep your pants on ladies," said Ross the bartender, placing another round of drinks on their table.  "They'll be here any minute."  And as if on cue, the room went quiet as three very attractive men walked into the room, two of which looked identical.  Twins.  Samantha held her breathe.  "I think they just arrived."

The men stood facing the women, waiting for the music to begin so that they could start their routine.  Their bodies were strong and Samantha could see their tight muscles bursting through the too-tight white t-shirts that they wore.  "Hurry up and get naked," yelled Sophie to the men.

The music started up, the bass pumping loudly through the speakers.  The men swayed their hips as they walked towards the group in unison, pulling Claire into the middle and making her sit on a chair.  She squealed, but didn't try to escape, as they each sat on her lap, taking turns to tease and dance suggestively in front of her.

All the women were laughing, watching Claire get embarrassed by the men's antics.  All of them except Samantha, who couldn't take her eyes off the twins.