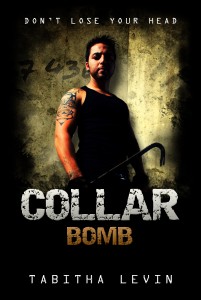 BUY FROM:
Amazon Kindle | Apple iBooks | B&N Nook | Kobo
$0.99
~~~
The fourth book in this series is called Collar Bomb.  It's one of my favorites  probably because Disco features in it, and also I think it has a softer side to it as well.
While I didn't have a clear idea about how it would end (I rewrote the ending a few times) I knew that I wanted to show Disco kicking some major butt again and I wanted to write a collar bomb story, since they had just been featured on our local news channel.
This is probably the last of the Disco stories before I finish up the series (just started story 7 which will be the last), but I am thinking of perhaps writing up another Disco story later on showing him when he was younger that won't be part of this set.
What's Collar Bomb about?
The story opens with Disco looking for something to snack on.  That's when he stumbles into trouble again when he follows two men into an abandoned amusement park diner.
Slipping in silently he steals their bag which contains the collar bomb, a crowbar and a sandwich.
Now what is Disco going to do with a collar bomb?  Sell it of course!
Although the buyer is not what Disco expects and he ends up helping her with her mission with explosive results.
We also meet Larry the con man, who features heavily in the next story Double Cross.
Lots of action and lots of fun.
I hope you enjoy it.
Tabs.
Buy
Collar Bomb is available at Amazon, Barnes & Noble, Kobo, and the iBookstore.
* It's also available as the bonus story for Seeking Vengeance, and is the fourth story in the Urban Darkness collection.