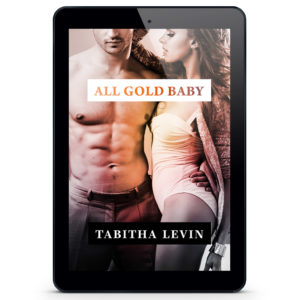 My newest book, All Gold Baby, is now live.
It's about Wren Gallagher, an aspiring writer, who gets the assignment to infiltrate billionaire Joshua Carter's party. She wants to bring him down and expose him for the jerk he is. He offers to give her a story if she'll spend the night with him.
It's sexy, funny, and heart warming. I think you'll love it.
Get the full book at Amazon | Apple iBooks | B&N | Google Play | Kobo
All Gold Baby Excerpt
PROLOGUE
He stood on the bank of the lake watching the two girls on their makeshift raft floating further and further out. He'd seen them before, even attempted to talk to them, but they didn't pay him much attention. They were sisters. The oldest one was his favorite, and not only because she was closest to his age. She had the name of a bird. It wasn't a name that was easy to forget. She was fearless, unlike him.
[Read more…] about All Gold Baby by Tabitha Levin – Free Excerpt – Prologue & Chapter 1