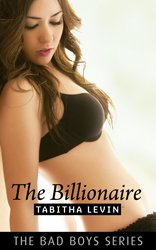 Hey ya'll,
Just finished another book from the Bad Boys series. This one is about Cara's (Cara is from The Biker) father – Mitchell Westwood. Billionaire. Oh yeah. He's taken a liking to his secretary Delaney Moore.
It's probably not as sexy as the other's in the series – there is only one sex scene, but I wanted to create something a little different to all the other billionaire books out there. I didn't want to go down the typical BDSM angsty story angle. I wanted it a bit sweeter.
I like these two together, I think Delaney is strong and a good match for Mitchell.
And of course we get to meet the next Bad Boy as well. Not sure when I'll be writing that story yet, but it's on my production schedule.
Anyway, I hope you like it.
Link to Amazon.com (0.99 cents or borrow in Kindle Unlimited)
Best,
Tabs xx