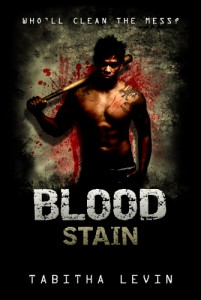 When I wrote Hunger For Truth I really liked the character of Disco and wanted to write a story about him and so now I have with my latest short story Blood Stain.
I had the idea for the first cat scene in the beginning after I saw a cat looking at me out of my front window and I wondered if Disco was looking at the same scene what he'd do (no I didn't do what Disco did of course).
I really had no idea what would happen after that that and it seemed as if 'he' took over and I was just writing down whatever he wanted me to.  I like it when my characters do that – sometimes they just have a life of their own and I'm just the observer writing it all down.
I played around with the title for over a week before finally settling on Blood Stain.  There were a few others that I nearly chose including Momma's Boy (you'll get that reference if you read the story) but in the end Blood Stain seemed the best fit.
I really enjoyed writing my first murder scene (is that weird?) and really hope you enjoy Disco's story.
Blood Stain is now up for Kindle for $0.99 – (other e-formats coming soon).
All the best,
Tabs xx