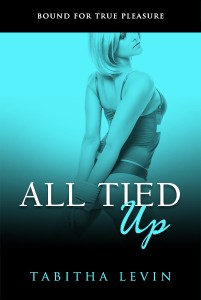 $0.99 Buy From:
Amazon | Kobo | Barnes & Noble | iBookstore
~~~
All Tied Up is now available.
It's the final story in the Desperately Delicious Series and follows Amy and her voracious appetite for sex.
Is your fantasy to be tied up, spanked, and pleasured for the ultimate release?
Amy's is.
Lots of BDSM and lust is the only way Amy can truly let go.  She must relinquish all control to her husband David to experience true ecstasy.
This short story contains four sex scenes, all of them hotter than the next, as Amy tries to get the pleasure she craves, all day, every day.
Then a spanner is thrown in the works when David's mother comes to stay.  How is she going to get her daily orgasms now?
You'll just have to read it to find out.
$0.99 Buy From:
Amazon | Kobo | Barnes & Noble | iBookstore