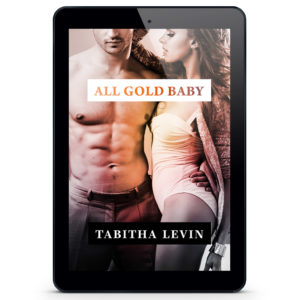 My newest book, All Gold Baby, is now live.
It's about Wren Gallagher, an aspiring writer, who gets the assignment to infiltrate billionaire Joshua Carter's party. She wants to bring him down and expose him for the jerk he is. He offers to give her a story if she'll spend the night with him.
It's sexy, funny, and heart warming. I think you'll love it.
Get the full book at Amazon | Apple iBooks | B&N | Google Play | Kobo
All Gold Baby Excerpt
PROLOGUE
He stood on the bank of the lake watching the two girls on their makeshift raft floating further and further out. He'd seen them before, even attempted to talk to them, but they didn't pay him much attention. They were sisters. The oldest one was his favorite, and not only because she was closest to his age. She had the name of a bird. It wasn't a name that was easy to forget. She was fearless, unlike him.
The boy sighed. They might need his help if they got too far away.
He looked around. Their parents weren't watching them. Not another person in sight.
It was up to him if they got into trouble. Him and his three months of swimming lessons that his father had insisted he took even though they didn't own a pool. One day, he'd say as he ruffled his hair, one day you would have a thousand houses with a thousand swimming pools. The boy didn't believe him, and anyway, what would you do with a thousand swimming pools? It was wasteful is what it was.
He wasn't going to be like his father though. He was going to be his own man. Help people.
Just like he was going to help those sisters out there on the raft.
They weren't in trouble, not yet. But when they were, he'd be there. They couldn't ignore him after that.
The boy took off his shoes and socks. He tucked his socks neatly into each shoe, just like his mother taught him to do.
Then he stripped the rest of his clothes off until he was down to his boxer shorts.
A breeze came up and he instinctively hugged his hands around his body. Maybe he'd go and see them, check if they were okay.
He tested the water. It was cold, but the sun was rising. Soon it would heat up so hot that he'd dry the minute he stepped out of the water.
One step in and then another. Soon he was up to his waist, then he couldn't touch the bottom.
The girls were laughing. They weren't too far away. He could make it easily.
Head down, concentrate on his strokes. One arm then the next. Turn your face to the side to breathe. He remembered what he had to do.
He was closing in on them. They still hadn't noticed him. Perhaps he should shout out to them so they wouldn't get startled when he popped up out of the water like a mythical sea creature.
Waving one hand in the air to attract their attention he called out a name.
They stopped what they were doing and looked around. When they saw him they began to laugh. He frowned. He wasn't that funny.
Time to make it the rest of the way. He put his head back down and continued. He'd reach them in a few more strokes.
The boy breathed out heavily when he felt the edge of the raft with his fingers. He was more tired that he thought he'd be. It wasn't that far, but he hadn't practiced swimming enough.
"Get off!" shouted the younger sister.
"What do you think you're doing?" asked the girl with the name of a bird. "This is our raft. Find your own!"
"Push him."
The girl with the bird name leaned down. "Can you swim good?" The boy nodded. He'd had three months of lessons. "Sorry, you have to go now. Girls only."
"You need my help getting back?" he asked.
The two sisters looked at each other and laughed.
"Go on then," said the girl. "We're all fine here. You go back to your friends."
He didn't have friends. That was the whole point.
"Get out of here!" yelled the other.
The boy had no choice. "Sorry," he muttered.
He pushed off the raft and began to swim back to the shore. It seemed longer this time. His arms were heavier. Head down, turn to the side to breathe.
The boy didn't turn his head far enough. His mouth filled with water. His lungs felt like they'd burst into flames and he forgot what his lessons said. He coughed, water spluttering over his face, dribbling down his chin.
Air. He needed air. He gulped. Coughed again. More water came up.
The shore was too far away. He couldn't make it.
But he had to. He had to, because if he didn't, he would never have a thousand swimming pools. He wouldn't have anything.
How could he help people if he couldn't help himself?
The boy twisted, laying on his back, floating like a turtle. Taking deep gulps of air. Filling his body with good breath again. Staying alive.
His lungs didn't hurt as much anymore, but he was still tired.
He glanced over at the sisters. They'd gone further out, but there was nothing he could do for them now.
Coughing again, he drew in more good breath. His feet weren't tired, so he paddled them. Just a bit, then a bit more. It was working. It was pushing him toward the shore. Slowly. But it was working.
Then, just when he felt like he got some of his energy back, he looked around. He was close enough that he could stand up.
The boy hurried out of the lake. His clothes were waiting for him and he quickly dressed. His wet body caused them to stick to him, but he didn't care. He was still breathing heavily when he'd done the last button on his shirt up.
Then he ran. He didn't look back at the girls again. Hoped they weren't looking at him. He didn't want them to think he wasn't strong enough to swim back. He'd show them though. Next summer, he'd have more lessons and they'd let him onto their raft.
But this summer he'd had more than enough swimming. And more than enough of that blasted lake.
CHAPTER ONE
"You can't get your private mail sent here." The receptionist, Abby, threw the envelope onto my desk. "This is for business only."
"Sorry." I waited until she turned around before pulling a face behind her back. Once she'd left I grabbed the scissors from my stationery caddy and sliced the side of the letter open. Another bill. Great.
I groaned as I unfold it to see the amount. Three hundred dollars to heat my shitty apartment? Hell. I'd just used the last of my cash. I frowned. I needed to get this promotion or else I was screwed.
This dinky newspaper was sending me slowly broke. Well, broker than normal, anyway.
I glanced over at Mr. Sandgate's office. Editor at Payton Press, the local newspaper here in my suburb. My chance at becoming a real writer.
He'd opened the door, must have finished on the phone. Time to ask him again whether I could move up, knowing what the answer would be.
I strode forth, going over my reasons why I needed a break. I was a good writer. The stories about local gardening were always well received, but I needed more. They weren't using me to my full potential. I could do better than writing fluff that didn't matter. I wasn't having it anymore.
Mr. Sandgate sat at the edge of his big wooden desk. Newspapers piled high on one side, scattered papers and notes on the other. His computer was behind him, the screen showing many programs all open at once. "Tell me you've got a story for me." I crossed my fingers behind my back.
His face was a roadmap of lines and crags, he peered over his dark rimmed glasses. His sleeves rolled at his elbows, sweat stains under his arms. "Now, Wren, I know you're eager." My heart sank "Well, I do have one assignment."
"But you said . . ." Wait. He had an assignment? For me? I paused to make sure I'd heard him correctly.
"I told you that if a story came along that I thought you could do, I'd give you a shot to move up."
"And? What's the story?"
He took a long pause and studied me closely. "You can tell me to go to hell if you want, there's no shame in not following through."
I stood up straight, my shoulders naturally pulling back. "I can write whatever you give me."
"This one involves undercover work."
"I said I can do it. Tell me what it is."
"Joshua Carter."
"Joshua Carter." I repeated the name back even though I knew exactly who Joshua Carter was. Everyone did. He was in the papers more often than he wasn't. Local hero self-made billionaire. Well, that's what he would have you believe anyway. His publicist spun all types of wondrous stories about him. Only half of them were true. "What's the angle?"
Mr. Sandgate leaned back to his chair crossing his arms over his chest. "We need to blow that arrogant prick up and tell the world who he really is."
"Expose him." I could feel the excitement jolting in my stomach like tiny electric shocks. "I'm in all the way."
Mr. Sandgate held his hands up in the air. "He's too clean in public, you need to get closer. I've set up an interview for you."
"An interview?"
"There's an agency. They hire women to attend his parties."
Everybody knew all about Joshua Carter's parties. They happened every month, big affairs. Sometimes lots of important people attending. A smorgasbord of who's who. Other times just him. And of course, the women that attended. They were beautiful, well dressed, and very rarely invited back a second time. There was no clear reason why that was. Maybe they didn't want to go back. Not surprising when they were dealing with someone like him.
It was all so hush-hush. The parties happened out at sea on his private yacht. What exactly went on out there? If it was bad, it could be the break I needed. And I was going to find out.
"I'm still in," I said. "We could even crack more than one story out of this. This could be a huge scandal."
Mr. Sandgate's lips tugged into a smile. "That's what I'm counting on.
* * *
"You're going to a party on Joshua Carter's yacht?" My sister, Marcy, looked at me incredulously as I riffled through her closet. I picked up a black dress that had seen better days and placed it back, it wasn't right.
"That's the idea, although I have to go to some interview first to see if I'm the right fit."
Marcy burst into laughter. "You, mingling with hookers and models."
I turned, my hands on my hips. "Are you saying I won't fit in?"
"Of course you're hot and I love you," she raised a brow. "But you're not the type that usually goes to his parties."
"He doesn't have to know that."
She sat up straighter and leaned forward, almost falling off the edge of her bed. "You do know what happens at those parties, right?"
I pulled out a blue dress, it was tighter and had spaghetti straps. It had potential. I threw it on the floor next to me as I continued my search. "I'm well aware, Marcy, I am a journalist you know." I rolled my eyes even though I was facing away from her.
"So what if he picks you? Are you actually going to have sex with him?"
I turned around, not quite deciding if she was serious or not. "What do you think? Marcy, of course I'm not going to sleep with him. Besides . . ." I waved my hand in the air, "he's not going to pick me among all the other women. He's used to being with models and such. I'm just there as background noise."
She nodded happily, convinced that I was right. Though I hadn't actually planned on what I would do if he approached me. Not that it would matter. Most guys that came up to me were usually turned away when I said something goofy or stupid. Even if he did start a conversation, it would quickly go nowhere.
"Aha!" I pulled out a red dress. It had lace in all the right places, was tight and looked expensive. "This is it. I'll wear this one. If that's okay? I can't afford to get something new."
Marcy smiled. "Fine, as long as you tell me everything about the party once it's over." She leaned forward even further. "And, Wren, I do mean everything."
* * *
I turned and glanced at the clock. One a.m. Another night that I couldn't sleep. It was beginning to be a habit. There was no use trying to roll over and wait for sleep to come, it didn't work that way with me. I flipped open my laptop and browsed the latest new stories. There was nothing interesting happening, but that wasn't a surprise. Out here in the 'burbs nothing interesting ever happened. One day I'd take up my promise to move the city. It was only an hour away, it wasn't like it was a big deal. Jobs were harder to get there though, but if I had a big juicy story on my resume, it might work out.
I checked my calendar. My interview with the agency was for three tomorrow. Plenty of time to sleep in and still make it.
I wondered what they would ask. So would you happily bend over backwards for a billionaire? We're being literal you know. A smile tugged my lips as I thought about the answers they must hear. Not that they could really ask a direct question like that. Could they?
The fact that women who'd been on Joshua Carter's yacht didn't go back for a second time was bothering me. Why? Nothing bad happened to them, they just moved on with their lives. But I couldn't for the life of me figure out why that was. Either he or they didn't want to see each other again. Maybe he really was that much of a prick.
I searched for his name again, not expecting to find anything that I hadn't read before about him. The articles out there were all the same. Spun to make him look like your regular rich playboy that wasn't ready to settle down, but that couldn't be all there was to him, could it? Surely he wasn't that shallow.
My cat, Woolf, jumped onto my bed to see what I was doing. She snuggled into my arm and walked across the keyboard.
"Okay, yes I do think you're more interesting than work." I scratched her under her chin and she purred and arched her back, demanding more. I sighed and gave in to the attention she craved. "Why can't all relationships be as easy as ours?" I asked.
She looked at me with her big round grey eyes. Sometimes I though Woolf tried to communicate with me by telepathy or some secret cat power. I always wondered if she was saying something like, why I would even consider a relationship with someone other than her? I petted her again and nodded. "You're right. Why indeed?"
I glanced back at the screen and noticed something new. A forum post that mentioned Joshua's name. I hadn't seen it before so clicked through the link to open the discussion.
A woman going by the handle, julyjilt, mentioned being at one of his parties. She's wasn't saying anything bad about him, although there was an undertone of disappointment about not receiving a second invitation. A few others in the discussion pointed out to her that it was in her contract and she knew how things worked. It seemed clear that she thought she had a connection with him that extended past the night on his yacht.
I clicked on the message button next to her name. My mouse blinked inside the text box. What would I say? I needed to find out more about her and what went on at his parties. I wrote a quick message about wanting to catch up. I told her I'm attending his next party which was true if I got accepted. I contemplated whether to tell her that I was a journalist or not. Would she give me less or more information if she knew that? I decided to keep quiet for now. I could disclose that if she agreed to meet with me. I hoped she lived close by.
My computer alerted me that I had a reply. It seemed julyjilt was up this late too.
'Have fun at his party. Just a word of warning, don't fall in love with him. JJ.'
'Did you want to meet up to discuss?'
'Not appropriate.'
'Why, not appropriate? I don't understand.'
'I need to move on with my life.'
'I get that, but what has that got to do with us meeting? Is there some rule that says we can't be friends because we meet the same guy?'
She didn't answer.
'Did he hurt you in some way?'
'Of course not.'
'That's good. Is there anything else I need to know?'
'Remember why you are there and don't get involved. That's the only thing I can say.'
'I know why women are there. I rolled my eyes. Why aren't you allowed to talk about it?'
'Do you really know why he has women there?'
Her question took me back. I assumed all women knew why they were there. For him. 'For sex?'
She took a moment to respond. 'Then you don't have a clue. I'm sorry, I have to go.'
'Can you answer any more questions? Please?'
A full half an hour passed before I conceded that she'd gone and wasn't going to answer any more of my questions. Woolf began purring as I scratched her head.
I frowned. That conversation was no help at all. If anything it raised more questions than I originally had. The indication that women were there for anything other than sex had me baffled. What other reason did he use women for? And why did this woman imply that she'd fallen for him after only one night. From all accounts he's charming, but no one is that charming.
The time was now past two, which accounted for why I couldn't stop yawning. I closed the laptop and placed it next to my bed on the floor, pushing it underneath so I wouldn't step on it in the morning. That's something I couldn't afford to do a second time in my life. Especially now that I couldn't afford a new one.
"Goodnight, Woolf." I laid back on my pillow thinking about the exchange I'd just had.
Her words were swirling in my head and I couldn't quite grasp what she was insinuating. All I knew was that I didn't have any idea of who Joshua Carter was or what happened at his parties.
And that excited me, because it meant I had the chance to blow all expectations out of the water with the article I wrote.
If Joshua Carter wasn't the playboy that he's made out to be, then who was he? I needed to find out.
* * *
I stared up at the building in front of me, intrigued why it was at this address. From the outside it looked like an old theatre, somewhere that I'd expect actors and dancers to try out for an audition, not a bunch of women wanting to go to a billionaire's party.
I walked in I saw that I'd dressed completely wrong. I was wearing business attire. A shirt and a sensible skirt. Most of the other women were wearing clothing more suitable for a nightclub than an interview.
"Name?" A women wearing glasses and a tight black turtleneck sweater stood in front of me. She held a tablet and waited for me to respond.
"Wren Gallagher," I replied.
She glanced down at her screen and nodded. "Over there." She pointed to the far corner. There was only one seat vacant and I headed for it. Sitting down nervously, I looked around. It definitely used to be a theatre. Two double doors on either side of the room led into a main hall. They were both closed, but I assumed that's where we went when it was our turn. I wish I knew what the interview entailed, I could have prepared better so that I had a good chance of getting through.
"Hi, I'm Sandy."
I turned to the woman next to me. She looked younger than me, probably around twenty-two, and had curly blonde hair. She's wore bright pink lipstick a shade Barbie would approve of.
"Wren," I said as friendly as I could.
"It's nerve wracking isn't it."
I nodded. "A lot of people here."
"Oh, they won't all get picked. This is my second time."
"Your second time?"
She grinned enthusiastically. "I guess I wasn't what he was looking for last month. I've had my hair done this time though." She shook her hair from side to side. "You like it?"
"Bouncy. Shiny. Beautiful." I said in my best shampoo commercial voice.
She narrowed her eyes and I noticed a crinkle in her forehead. Then she beamed. "You're funny."
I grinned. "So they don't choose everyone?"
She shook her head causing her curls to bounce around her shoulders again. "He keeps it to ten."
"Ten women." I didn't realize it was so few. For some reason I'd imagined his yacht filled wall to wall with nubile young women vying for his attention. Ten meant that fading into the background would be harder.
Sandy narrowed her eyes and jerked her chin toward to a group of women across from us. They had their hair pulled into sleek ponytails and were as thin as models. I shifted in my chair. "They won't get picked, they're not his type."
Huh? They looked exactly what I'd expect a rich playboy to go for. "Why? What's his type?"
She cocked her head and looked at me like it was obvious. "Would you want to party with women so far up their own butts that they're too stiff to have a conversation."
"He wants someone he can talk with." Then I definitely wasn't going to get picked. It didn't make sense. Weren't these parties about him having fun? Why he would care about having a conversation when all he really wanted was to see them naked? He could talk to woman anywhere. He didn't have to interview them first. I frowned as I watched the women. He didn't even know them.
Sandy shrugged "Like I would know what he's looking for. I was a reject remember."
"I'm sure you won't be again."
She nodded as if she agreed. "Doesn't matter. If I don't get chosen this time, I can always go back to Larry. Coming here makes him jealous as anything." She leaned in closer. "He treats me awesome for weeks after I do something like this. You know?"
I chuckled. "Then how good would he treat you if you made it onto the boat?"
"I know, right? Ooh, I bet I could get him to propose to me or something."
"Is that what you want?"
She grinned. "If there are diamonds involved, then sure."
—
Get the full book at Amazon | Apple iBooks | B&N | Google Play | Kobo