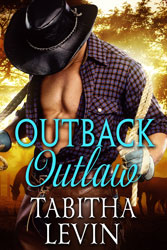 It's done. I've finished Outback Outlaw and put it up for sale at the usual stores.
It's a little different to what I usually write, so hopefully, everyone likes it. Maybe you'll like it more. Maybe less.
My job is to release this book out into the world and let it warm the hearts of those readers that like this type of book. That might be you.
What's it about?
A simple case of mistaken identity leads Claire Ryan to invite the rugged stranger into the pub.

He opens the possibility that the Australian outback town of Tilburra isn't as bad as she first thought.

But everyone tells her he's no good. That she must stay away.

With her brother trying to set her up with a steadfast business owner, Claire knows she needs to get out of town to clear her head.

The local rodeo seems the perfect place to let off steam and have a well-earned vacation to boot.

With both men pursuing her, Claire must make a decision. About her life, about love, and about who's telling her the truth.
I was originally going to make this a series. But I've had second thoughts on that.
Now that this is done, I'm going to take a break from writing romance for a while. I've come to the conclusion that maybe the romance genre isn't the right fit for me. It might be. I like writing it. But I don't think my style is resonating with readers. Romance is a huge genre filled with brilliant talented writers. I'm not sure I can compete when there are so many good books out there.
We'll see. If it's meant to be, I'll be back, but 2018 is going to be the year I experiment with other types of stories.
I can't predict what the future holds, but I know I'll still be writing. Just not romance. Maybe.
Happy holidays and much love,
Tabitha xx